---
currentform is undergoing a transition in purpose and design.
ó
Itís unseasonably warm right now. Actually itís more in line with what the rest of the country is having weather wise. Itís tricky though, always makes me want to get my moped out and running, but if I do itíll snow.
ó
My parents came up for breakfast at Comoís today. Theyíre going to Hawaii for a week on Wednesday. Itís part of a discounted trip package that they go on every year through Lord's Seed (which is a totally weird seed corn company name, I know). Winter is the time of the year that my Dad takes it easy a bit.
Iím afraid that Iím a workaholic like my Dad. I deny it, but I know itís true.
ó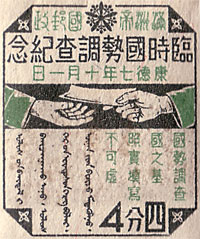 Old Japanese Stamp
# January 27, 2002 02:32 PM