---
Two projects I keep smiling about
There are a handful of art projects I'm enamored with right now. One is from Jin-Yo Mok and Gicheol Lee, students at the NYU Interactive Telecommunications Program. They created a giant, hand cranked music box rigged up to a computer that allows people to make their own patterns and then turn the handle to play it. You see the musical pattern you're designing on the screen and simultaneously see the appropriate "notes" on the physical structure light up.
The website has a journal following the development of the project complete with videos, images, and source code. This is an awesome level of insight into the construction of a physical computing project.
Photo by Jin-Yo Mok.
—
I found out about Theo Jansen from the quite excellent and woefully under attended Ars Electronica presentation at this year's SXSW. For the last 14 years he's made giant moving creatures, mostly out of yellow plastic tubes. Despite their simple materials his creations are independently mobile and incredibly complex. Imagine a twelve foot high skeletal robot made of nothing but electrical tubing lumbering along the beach through complex wind driven joints. This is jaw dropping work.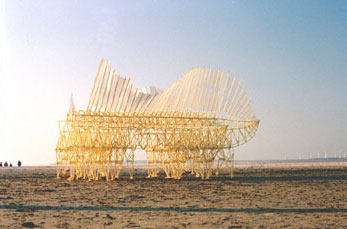 The latest evolution is the Animaris Rhinoceros Transport, a 15 foot tall monster made of two tons of steel yet able to be pulled by a single man. It uses wind power to make up the difference and as the name implies you can ride in it too. This is not a motorized vehicle. This is a giant, walking, dinosaur sized steel animal!
There are photos and videos of his creations on his website. Unfortunately the only other materials available are in Dutch.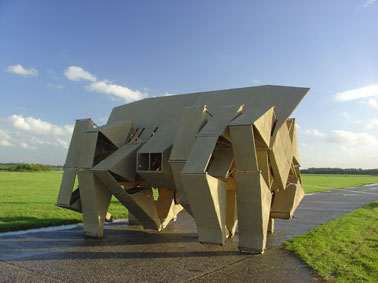 This and previous photo by Lourens Van Der Klis.