---
Euro Belle
I've been back from Europe for nearly a week, and it's taken me this long to feel like writing about it. Summing things up and sorting through photos puts an air of finality on the trip, which I've been avoiding. It was the sort of vacation where you seriously mull over the consequences of not taking the flight back. It didn't seem that far fetched at the time, maybe slightly more spontaneous than calling in sick to go swimming.
More than ever before I felt comfortable while traveling. Cities work the same most everywhere, and I like to picture myself living in each one of them. France was wonderful, and I'm glad I got to see more of it than just Paris. Walking along the Mediterranean in Nice was great, though it's Florence that really won me over. We were there for four days, enough to relax, eat delicious food, and wander everywhere.
Strasbourg » Paris » Avignon » Nice » Florence » Siena » Florence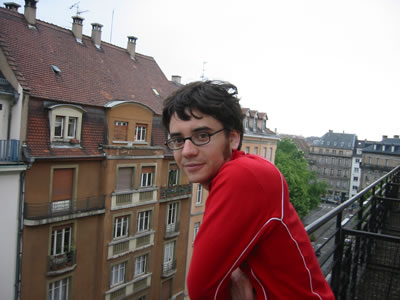 This is from Meredith's balcony in Strasbourg. She had a great corner room at the top of her building with a balcony that wrapped around both sides.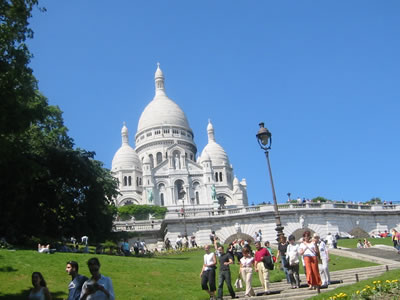 The Sacré Coeur in Paris. Our hotel was just a block away. It was nice to stay in a different neighborhood than I have in the past. We stayed for just one night, which worked out perfectly.
The church and castle in Avignon, featuring a giant golden Mary overlooking the plaza. This area was really nice late at night.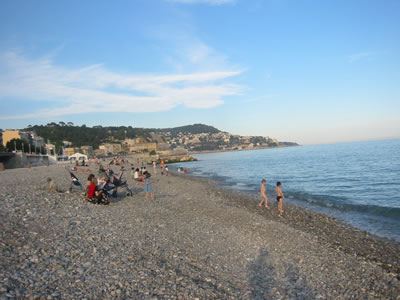 The rocky beaches of Nice. Whenever you have mountains and water it's beautiful. The views only got better as we took the train into Italy. It followed close to the sea for hours, exposing the most beautiful shoreline I've ever seen in-between mountain tunnels.
Meredith and I taking goofy photos on the beach. We were only here for one night, but the hostel was great. It was the only place we stayed with real hostel-like accommodations including a full kitchen and community rooms. It was nice to buy food and cook it ourselves.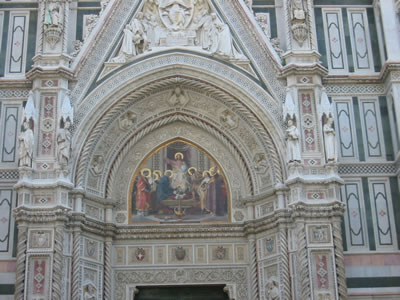 The Duomo in Florence. My first thought was that it was too beautiful and delicate to be kept outside. What a strange thing to think about a building.
The best bridge in Florence. There are shops all along it that fold up like a cabinet at night.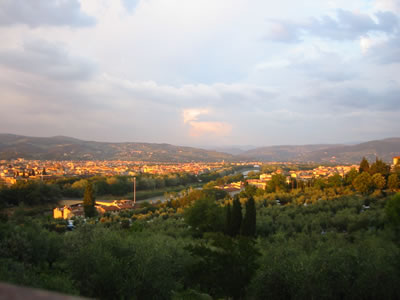 A view from the Piazza Michelangelo.
We went to Siena for two nights and met up with Meredith's parents there. This overview shows the Plaza del Campo, home of the Palio delle contrade, a crazy bareback horse race between rival neighborhoods.
Soon after we arrived we ran into a parade being held by Contrada Priora della Civetta, the owl neighborhood.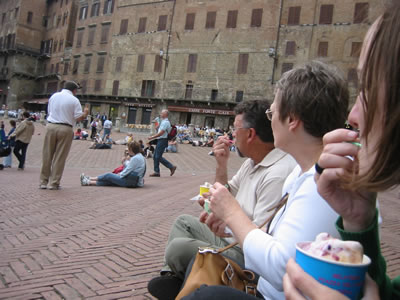 Meredith and parents eating Gelato. We ate Gelato nearly every day we were in Italy. Holy shit, delicious.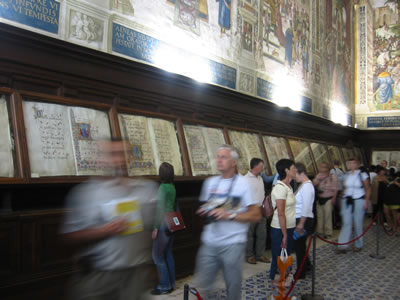 Siena also has a great Duomo, similar in style to the one in Florence. This photo is from a library room that shows off giant illuminated books. These are similar to ones we saw at the San Marco museum in Florence.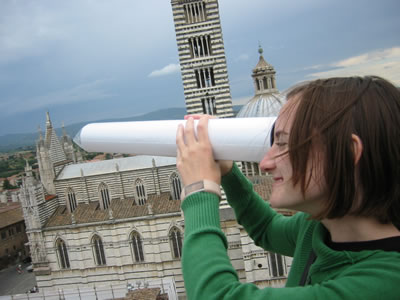 Meredith on lookout over the Duomo.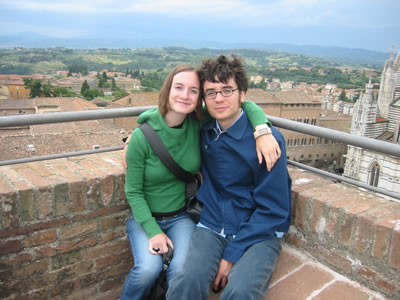 Tuscan countryside.
—
After three months Meredith finally comes home tonight. I know she'll be sad to be back, but I've missed her like crazy.