---
Air conditioning needed, even at night
It's hard to believe that it's been three years since I was in New York City and attending the first Cooper-Hewitt National Design Triennial. It was a good show, and a first in it's consideration of such a wide range of design. The collection included information, textile, film, architecture, typography and other forms of design. Two months ago the 2nd triennial show opened and the website has all the photos and descriptions. Well worth checking out, there are lots of inspirational pieces to learn about.
—
This weekend's Mopeds of Hazzard event in Cincinnati was a great success. We did a lot of swarming in my favorite moped riding city and through the Kentucky country. It was great to see everyone from The Bombardment Society again. I love how this summer is a string of moped rallies. On the downside, I'm covered in mosquito bites and my arms will be putting out heat for the next few days from their bad sunburns.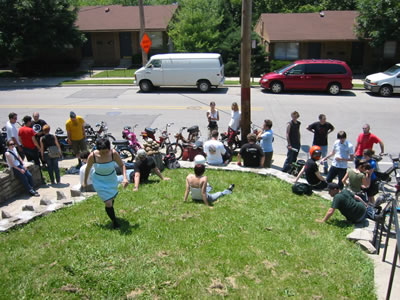 Also, check out this panoramic photo taken by Lauren and a detailed writeup of the weekend by Miguel.
—
Update: The official photo gallery is now online.