---
We visited downtown Arcadia, the town that my grandparent's address falls within. They seem to love living in rural areas. The town is one of those places that used to have a rich history, but now is full of antique stores. It labels itself as the best small town in Florida; which should probably be subject to a re-vote. It wasn't all bad though; I found a restaurant with garden burgers so I could stop my 3 day spree of eating nothing but breakfast food.
—
The computer training is done, and I think it's at least sort of worked. Omar is using the track pad like the best of them. It's very humbling to watch a computer novice attempt to use a website you've built. All those usability rules that get scoffed at most of the time come into play, and you realize just how confusing the constantly changing interfaces of different websites are. There's so much I take for granted when it comes to computer-based knowledge.
I'm pretty sure that Omar and Barb know how to check and respond to email through MSN okay now. So if you know them, and have the time, drop them a line at omarbarb-AT-msn-DOT-com. I had to spam proof that email address because they're never going to use this computer if they start getting porn spam in their inbox.
—
Tomorrow we're back on the road to Michigan. Merry Christmas everybody.
—
banana tree in Omar's yard
Omar with a photo of him and Barb on their honeymoon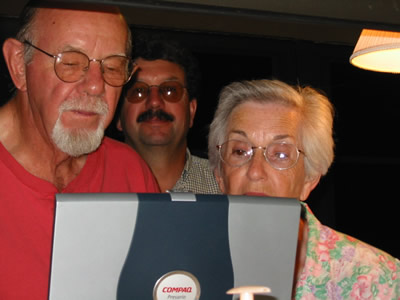 Omar and Barb learning how to use their new laptop
# December 25, 2001 12:05 AM