---
Real Life Professor Frink
At work I like to listen to either Internet radio or whatever audio clips from conferences and presentations I can find. It makes me feel like I'm learning something during even the most mundane jobs. I've just finished listening to a lecture by Richard Alley from Pop!Tech 2004, hosted by ITConversations. He talks about global warming and even though he references numerous unseen charts and graphs it was quite interesting. He talks about how it's "hard to make it better but easy to make it worse" and encourages people to think of business models around improving our climate.
So the lecture was good but more importantly I was completely entertained by how much this guy reminds me of Professor Frink from The Simpsons. You really need to listen to at least a few minutes of his lecture and hear the comparison. His voice peaks in exactly the same way and his physical appearance isn't too far off.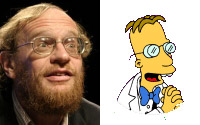 A quick Google search shows that I'm not alone in my analysis. Check out this remark from RateMyProfessors.com:
This Professor is surely the inspiration for the [archetypal] Professor Frink as featured in the Simpsons! I have heard him speaking on the subject of

THC,

that is Thermo-Haline conveyor belt or Gulf-stream. Very animated and full of the 'Claven-Maven'!!