---
Trash Trucks Explained
Parked all around my neighborhood and often slinking slowly though the alleys you can find beat up old pick-up trucks with built up sides stacked incredibly high with scrap and trash. Generally wood, metal, porcelain or furniture is piled impossibly high and clearly not just being moved Beverly Hillbilly style to another residence.
I might of finally found out what is going on. The city of Chicago has developed a report [pdf] on illegal dumping that has the following explanation:
Although it primarily occurs at night, illegal dumping occurs at all times of the day. Illegal dumpers often purchase rundown pickup trucks at a very low price, use them for illegal dumping activities until they are no longer operable, and then abandon them while they still contain waste.
So some the trucks I see parked are just abandoned until the city hauls them away. They make their money on illegal dumping and when the truck breaks they leave it for the city to take care of.
—
This weekend was great because Meredith was in town. It really helps make up for my weeks full of days sitting here in front of this screen staring at incredibly small type all day.
We saw a movie, went to dinner with friends for Matt's birthday, hung out with Isaiah and Johanna, and tried very unsuccessfully to fly kites that we bought at the Paul Davis Pharmacy. Paul D. was even nice enough to give us extra kite string, but we didn't make very good use of it.
Three times a group of young kids had to come over and explain what we were doing wrong. Eventually our mistakes ruined the kites before they ever got in the air. An entire family that the kids belonged to watched me running like an idiot all over the hill trying to get the kite to take off. I think I'm done with kites.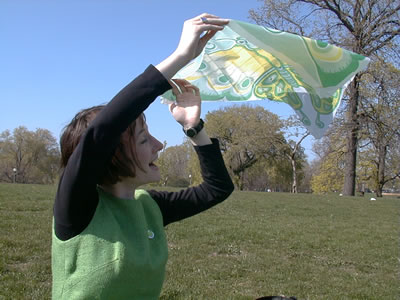 Meredith trying to float her broken kite.
If we couldn't make it fly, at least it matched her dress.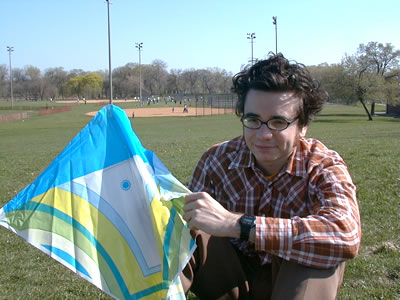 Me being disappointed with my broken kite name "Art 2".