Last weekend, my first in India, I went on a hiking trip with some of my co-workers. The mountain was roughly two hours east of Mumbai, with a tiny village at the base where we parked the car and set off in the rain. We trekked 3 hours up and 3.5 coming down, with rain alternating between downpour and clear skies every 20 minutes or so.
The ultimate goal was to reach the Kalavantin Pinnacle, an ancient lookout at the top of the mountain that used to protect a fort. The first leg of the hike was pretty casual with a well marked and sizable trail. On the plateau, about halfway up, we had an amazing view of the village down below. Over half a dozen waterfalls gushed along one side of the mountain, flowing more than usual due to the rain. On the flat top there were a few houses and a school before the final ascent upwards, which was much more steep and treacherous.
Eventually we made it to the base of the final pinnacle, which is where I had to call it quits. The final climb included carved steps, so I thought it was be manageable, but the stone was extremely slippery since it was raining and the drop-off was straight down 500 feet. My nervous stomach wouldn't let me hoist myself up the slippery steps that were as high as my chest in that rain. The second photo below was taken by my colleagues who did have the guts to go all the way up.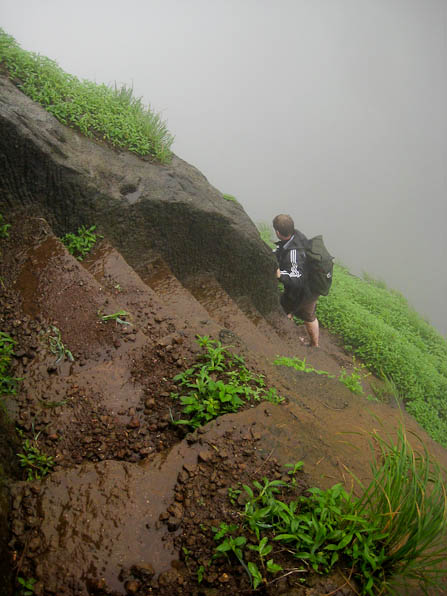 Oh yeah, and I saw a wild monkey! Overall this was a pretty amazing experience and a great introduction to the Indian countryside. More photos are on Flickr.